iD Tech
Summer tech camps at 150 locations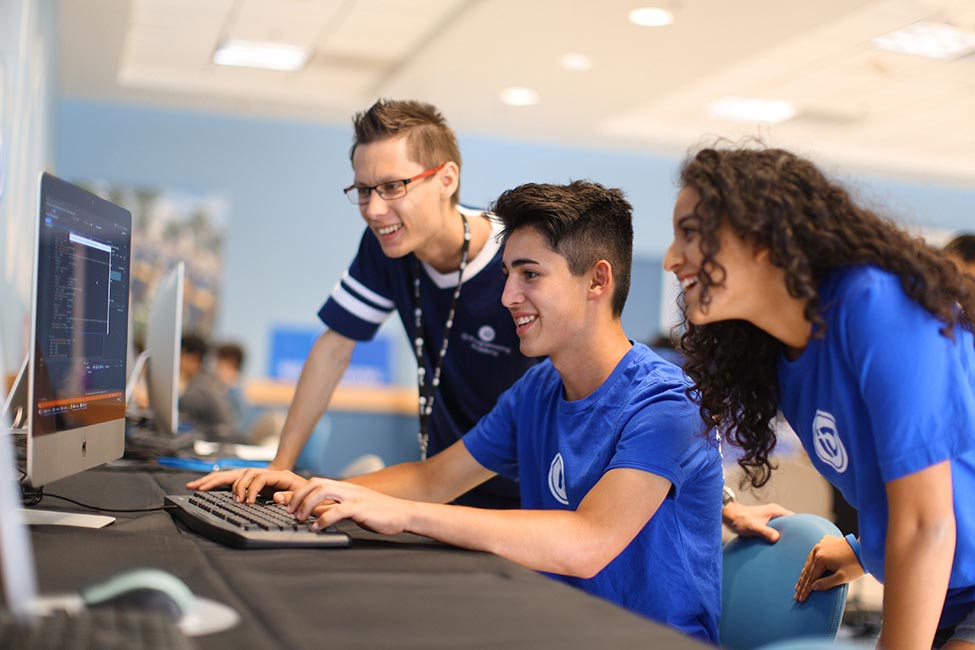 Fast Facts
School Size

Medium

Cost of Attendance

$1,000—$5,000 Session

Affiliation

Private

Type of School

Secondary/Boarding

Student Body Gender

Co-ed

Religious Affiliation

No Affiliation

Scholarships for International Students

No

Conditional Admission Available

No

Top Programs

Computer Engineering, Computer Science, Summer Camps/Programs

Setting

City, Small/College town, Suburban

Type of Housing

Residence Hall

Social Media
For students aged 7 - 19
Learn Technology at a Prestigious U.S. University
In 1999, a family-owned Silicon Valley company pioneered the first youth summer STEM education programs in the world. 18 years and 275,000 students later, iD Tech remains the powerhouse provider of tech education for students ages 6–18 in subjects like coding, robotics, video game design, virtual reality, cryptography, 3D printing, web design, photography, and videography. In each session, students explore a top campus, create an impressive project, meet new friends, and build important STEM skills that last long after summer ends.
According to the U.S. Bureau of Labor Statistics, STEM-related career opportunities are expected to grow by more than 9 million positions by the year 2022. Ensuring students get a foundation in subjects like coding, robotics, virtual reality, and 3D printing means more career opportunities are open to them. In the summer of 2016 alone, iD Tech provided that foundation to 50,000 students.
Day-to-Day Activities
A day at iD Tech Camps is one filled with variety. After day campers are dropped off and overnight campers have eaten breakfast, students begin the day with instruction in their chosen course. Depending on the instructor's style, they may utilize whiteboards, outdoor spaces, an educational game, or the provided student laptops to teach their lessons.
After lunch, students are usually taken outside for sports, board games, and other off-computer social bonding time with their fellow campers. The afternoon brings more instruction, with wrap-ups at the end of each day to reinforce the lessons students learned. Day campers get picked up and overnight campers then proceed to dinner and an evening filled with more social time, including gaming tournaments, themed party nights, tours of the campus (depending on location), and more.
Overnight students reside in on-campus housing (unless otherwise noted) for a complete collegiate experience, and are monitored by iD Tech staff who have attended in-person safety training and are both CPR and First-Aid certified.
U.S. and International University Locations
iD Tech summer programs are held at over 150 prestigious campuses across the globe, including top universities such as Stanford, UCLA, Rice, MIT, Yale, Harvard, University of Hong Kong, Dartmouth, and many more.
Top-Tier Instruction
iD Tech is the only summer program that guarantees its 8:1 student-to-instructor ratio, ensuring the most personalized instruction through small class sizes. Plus, they exclusively hire top-tier adults who are either studying a STEM field, have already graduated college with a STEM-related degree, or are actively employed in their field.
Every single instructor goes through in-person training to ensure they have the technical skills required, and also experience teaching and inspiring children. Additionally, all staff members from instructors to camp directors receive extensive safety, first aid, and personal care training.
Program Duration
Stay for a week or spend all summer learning new technology skills and practicing your English! Weeklong and two-week program sessions are offered June–August and vary based on location. Students can choose to stay for one weeklong session or spend the entire summer with iD Tech. Overnight stays are available at most locations, with the option to stay for an Ultimate Gaming Weekend.
Students also have the option of learning year-round with Tech Rocket, iD Tech's online offering that includes courses and tutoring in coding, video game design, and graphic design. Tech Rocket tutors provide the same personalized assistance that students receive at camp, but from students' homes in a unique, web-based learning experience. All Tech Rocket courses and tutoring are taught in English.
Language Requirements
All iD Tech programs, including the ones hosted at the University of Hong Kong and GEMS Nations Academy in Dubai, are taught in English as a full immersion experience. Students need to be able to speak and read English, as iD Tech teaches computer skills and not English language classes.
Academy Experience
Students can attend an iD Tech Academy for the most immersive technology experience. Held at the most prestigious universities, these programs are pre-collegiate and mimic Silicon Valley startup culture. During each two-week session, students learn from elite faculty, dive into the industry with exclusive presentations and tours, network with peers, and create a cutting-edge portfolio that looks great on college applications.
Choose the Right Program for Your Student
Come see why more than 275,000 kids and teens have chosen iD Tech. Your student will meet new friends, use big-name software from companies like Autodesk and Adobe, improve their English, and build a foundation of knowledge that will make a positive impact in school, college, and future careers. iD Tech alumni have gone on to land dream internships at Facebook and Google, create their own indie game studios, and start nonprofits.
iD Tech
Summer tech camps at 150 locations

910 East Hamilton Ave
Campbell CA 95008
P: 4086902808
For more information:
iD Tech
Summer tech camps at 150 locations